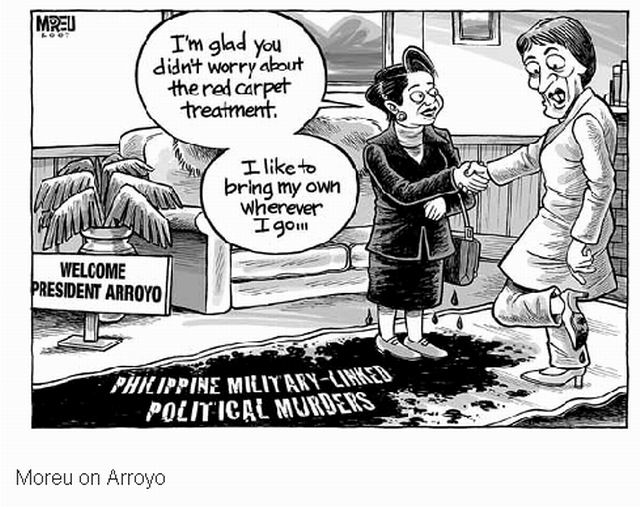 There have been numerous articles and statements written about the extra-judicial killings that have occurred in the Philippines since 2001 under the regime of Gloria Macapagal-Arroyo. The Philippine-based human rights organization, Karapatan, has been at the forefront of documenting these crimes. But the investigations don't come without roadblocks, especially from those who are the perpetrators of the abuses. The Armed Forces of the Philippines (AFP) and the Philippine National Police (PNP) are supposed to protect the people from threats foreign and domestic, but several organizations have stated that they do the exact opposite. Human Rights Watch has issued reports ("Scared Silent" & "Universal Periodic Review of the Philippines" to name a couple) on the human rights situation and directs blame towards elements of the AFP. The PNP allows these acts to continue because of their lack of action and prosecution of the killers. UN special rapporteur on extrajudicial killings Philip Alston stated in his report that: "The AFP remains in a state of almost total denial".
With all that said, it is important to remember those who came before us. During these past eight years, three members of LFS in the Philippines have been killed and one more kidnapped and still missing. We seek to remember them and their work. Though we are the only LFS chapter in the U.S., there is a special bond we have with the LFS chapters in the Philippines. Our conditions are different, but the reasons why we joined are similar. We struggle with being a student and organizer, balancing the work with our daily lives, connecting with our peers who seem to have the big picture no where within their vision. While we are thousands of miles apart, we are all members of the LFS, all youth and students, all apart of the National Democratic movement, all fighting for true liberation for all oppressed people around the world. We will continue to fight for peoples' basic right to change their oppressive conditions.
L-F-L-F-S TUNAY PALABAN MAKABAYAN!
Cris Hugo
-20 years old
-A native of San Julian, Irosin, Sorsogon, Philippines
-Regional Coordinator & National Council member of LFS (Bicol University, College of Arts & Letters)
-4th year Journalism student
-Newly elected Grand Chancellor of the Alpha Phi Omega Chapter at BU
-Killed on March 19, 2006 from multiple gunshots by masked gunmen on motorcycles while walking with a professor from BU
Resources:
"A Small Guy with a Big Conviction"
"LFS-SFSU: Mabuhay si Cris Hugo at ang Kilusang Kabataan"
"Youth Leader Killed in Albay"